Handmade goods, all made in California
All screws included.
customer reviews

Rodrigo, the plate arrived today and looks lovely. Thank you for taking extra care. I LOVE all the covers around the house. They bring me joy when I see them.

We received the package a couple of weeks ago, and they are gorgeous!! Everything is up. My husband loves them all as much as I do. Thanks so much!

Hello again Kevin, Quick note, I realized lately I've enjoyed, truly, your art inspired wall-plates everyday since purchasing them… Please know your Classico line is truly wonderful for everyday use. We both love your art/small studio, and THANK YOU for handmade craftsmanship. They are rugged, functional and beautiful! Kind regards, your fans.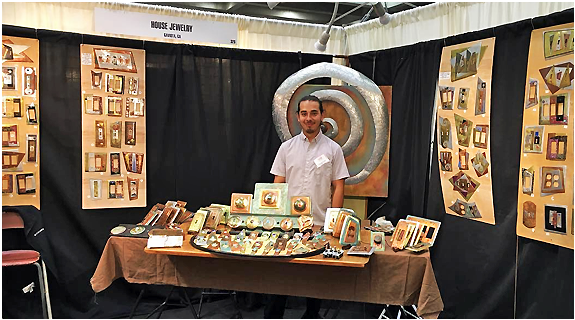 About Us
Hi folks, Kevin Loughran founder of House Jewelry, and his recent apprentice, Rodrigo Vences, have been working together for the past few years to create beautiful pieces of functional art for your homes. Now Rodrigo is in charge of the House Jewelry line and Kevin is off creating one of kinds and other art pieces.
House Jewelry was founded in 1980. After 35 Yrs, it still remains active in reducing the plastic in the world. It has evolved in many different ways. We create "One of a kind" Switch plates, Doorbells, Dimmer knobs and other metal art work for homes. Located on the the coast of California, 25 miles west of Santa Barbara, where we create.
Read More